Lindholme Classic Tour
Sunday 21 May 2017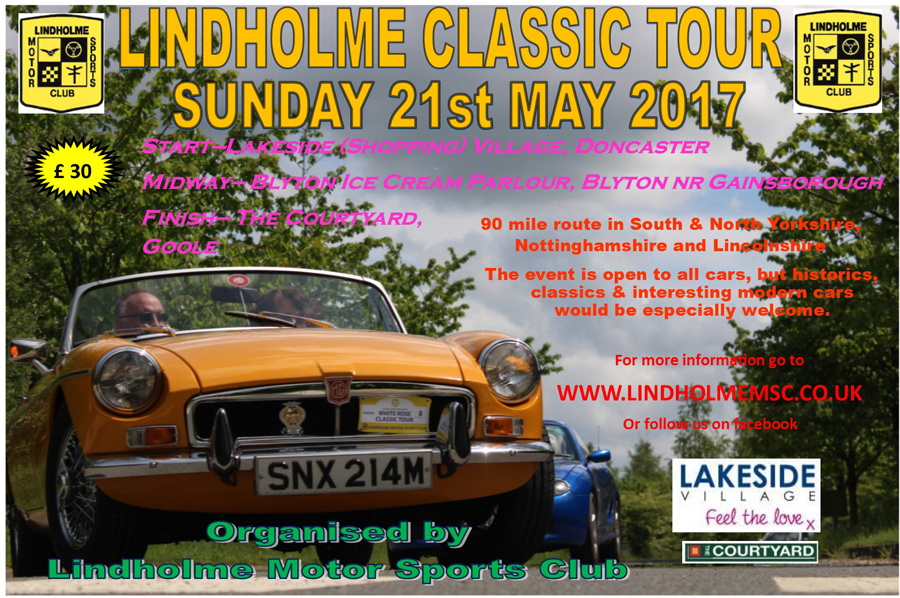 The Classic Tour is open to everyone (not just LMSC members) and all cars, but preferably those with historic, classic, sporting or cherished characteristics.
ENTRIES OPEN!


Download the 2017 Entry Form


Download the 2017 Regulations
The key details are:
Start: Lakeside, Doncaster – free breakfast rolls & drinks.
Halfway halt: Blyton Ice Cream Parlour – has a full cafe as well as delicious ices – buy what you want.
Finish – The Courtyard, Goole – a splendid reinvention of a Victorian elementary school. Cream teas will be served as part of your entry fee.
Entry fee for car and two crew members – £30, plus £10 each for any extra passengers to cover the catering costs. The Tour will, as usual, run under an MSA Permit/Certificate of Exemption, which confers full public liability insurance, but please check if your car's insurance covers it for road cover on this type of event. It probably will – it's social usage, not a competitive event.
The route: 90 miles of interesting roads, with tourist notes and some observation quiz questions to entertain you. The route is predominantly flat: fewer long range landscape views this time, but kinder on the brakes! You will get a full road book of easy to follow "tulip" diagrams of road junctions.
After the great success of the Golden Jubilee Tour of 2015, and the previously named White Rose Classic Tours, we hope to see you and your car out again in 2017.
Regulations will be published in March, at which point, entries will be open.
Regs and entry form will be on this website.