Marshalling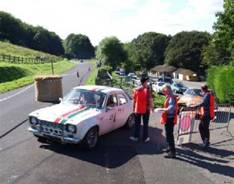 Lindholme Motor Sports Club have licensed marshals who have been responsible for sections of the Rally GB in Wales for the last few years.
Stage Rallies and Road Rallies are also quite often marshalled on and are a good introduction to Time Controls and other roles and responsibilities required to successfully manage the running of a rally.
Marshalling – What's it all about?
For those of you who are new to the subject of Marshalling the following should help prepare you for what you'll be getting yourself into.
Many people assume, from the TV coverage they have seen, that you simply stand around, at all sorts of odd hours of the day and night, in a Hi Viz tabard, waiting for something to happen and taking appropriate action if it does.
Not so … There are many essential functions to be performed in the organising and running of Rallies This is a very sociable side of motorsport with many a friendship born from meeting on an event, and without the services of these volunteers, the world of motorsport would be impossible.
Here I'll concentrate on the Stage event Marshalling as it's what we, as a Club, are more commonly associated with.
Off Stage
At Scrutineering and the Start Venue many marshals are needed to ensure things run smoothly. Passage Checks are also very important areas that require staffing.
On Stage
Here is where the largest concentration of marshals is required. General marshalling duties on stage rallies can lead to more specialised roles of timekeeping at Stage Arrival, Start and Finish Controls.
Within the Stage, in addition to the general Course Marshals, Radio Operators are needed to provide communication to the Stage Commander and other Rally Officials.
In many cases you also get to talk to the famous names in rallying at the time controls. Oh, and there's the bonus of being right at the forefront of the action.
Road Rallies
Road rallies too need lots of marshals to staff time controls and passage checks.
LMSC organises marshalling and stage commanding on a wide range of events including the British round of the FIA World Rally Championship – The Wales Rally GB – www.walesrallygb.com
If you are interested and would like to come along and assist, come to a Club night or email us.
Marshal Training
As a result of the 2002 Report of the MSA's Safety Group, the training of marshals has a high profile. A voluntary registration scheme includes training meetings, with backing materials on video and paper. Three grades of marshal reflect increasing levels of expertise and experience. In addition to this National scheme, all Regional Associations offer a range of training, including incident procedures and safety radio operation. As a club, we are keen to recruit new marshals to our widely respected team. We attach "novices" to experienced marshals to guide them through the skills needed on rallies and Autotests. Full details are on the MSA website – (see links page)
As always, this training is provided FREE of charge by MSA Marshals Instructors.