Rallying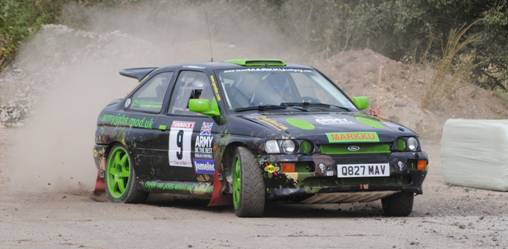 Members of Lindholme Motor Sports Club compete in both Road and Stage Rallies. Road rallies are usually run on tarmaced public roads although some lesser quality roads and private tracks are often used. Stage Rallies can vary in the surface used – these include Tarmac, Gravel and loose surface forest tracks.
Special Stage Rallies
The photo above shows club members Mark and Dominic Booth on Lindholme's Lincoln Green Stages Rally. The event began in 2011, using Blyton Park Driving Centre, a former WW2 airfield which has seen a variety of motor sports over the years. The rally ran with a full entry in 2012, and was voted "Single Venue Rally of the Year" by contenders in the East Midland Association Championship. This achievement was repeated in 2013.
LMSC's single venue rally has now moved to Melbourne, near York: the Vale of York Stages Rally. The event is organised in collaboration with Slaithwaite Motor Club. This former airfield/farm location offers a variety of surfaces – a "proper rally venue"!
LMSC's multi-venue stages rally began as a collation of farm tracks, old airfields and other unsurfaced roads. It then became a part-forest rally, and was well known as the "Norking" after its long running title sponsor. It eventually secured a full allocation of Forestry Commission roads, and developed into the Robin Hood Forest Stages Rally, using roads in the Sherwood area. For 13 years, it was usually the best supported entry of any event in the British Historic Rally Championship, with a parallel event for Modern cars. The BHRC went elsewhere in 2009 – we tried to carry on regardless, but the entries were too low to cover the very expensive Forestry fees. It was decided to go for a more manageable solution – the single venue rally.
Road Rallies
The Danum was an all-night Road Rally which the club ran for many years, until its last appearance in 2011. However, with pressures of work on the rally organising team, we are now concentrating on the Vale of York Stages Rally and the White Rose Classic Tour.
Competitors on Road rallies can use standard cars, as the route of about 150 miles consists almost entirely of tarmac roads, with some limited use of unsurfaced tracks. More competitive crews run cars with modifications, safety roll cages and sump guards. These events require map reading and timekeeping skills, so a capable co-driver is as important as the actual driver. With good teamwork, crews soon pick up the skills for a good night's motorsport. Lindholme MSC belongs to several Regional Associations which promote Road Rally Championships – see Links page for the list of these associations.